HomeFamily
iOS Mobile App
The best way to learn a brand new language is on the go with Rosetta Stone. Our Learn Languages mobile application will allow you to study anywhere in the world. 
Before we learn about features and settings in our Learn Languages application, here are some Articles that might help you answer your questions. 
About
The  Learn Languages with Rosetta Stone® application is a free download for anyone.  
If you're not a Rosetta Stone customer, you can create an account to demo the application.  

You will have full access to the Learn Language Application if you have any of the following : 
Rosetta Stone® Language Learning Online Subscription 
Purchased access in-app through the Learn Languages with Rosetta Stone® mobile app
Currently, Learn Languages: Rosetta Stone® is available to all Apple App Store markets except the following: Cuba, Iran, Korea (North), Liberia, Mynamar, Sudan, Syria, Belarus, Cote D'Ivoire (Ivory Coast), Democratic Republic of the Congo, and Somalia. Please check back for more global releases.
Table of Contents
Click the Learn Languages: Rosetta Stone® app.
Type in the same e-mail address and password that you use for Rosetta Stone®. 
If you own Rosetta Stone® Language Learning but don't have an active online subscription, click here to learn about getting an online subscription. 
If you have an existing Rosetta Stone Account, then click on "Sign in"
If not, then you can click on Get Started to create an account to demo the application.

Then click on "Personal".

Please use the email and password that you use to access your program from your computer or other mobile devices.​ If you have forgotten your password, press "Forgot password?" on the right hand side.

How can I access the Settings menu?    
The Menu option is located in the upper right corner of the home screen. Then press the settings option .


In the Settings menu, you will be able to:
In Buy Languages, you can Restore Purchases if you purchased a language using the In-App purchase.
In Speech Settings, you can turn off/on Speech Recognition, change Speech Precision, and set your Voice type.
In Lesson Settings, you can change your Learning Focus, turn on/off Learn letters, characters, and sound, turn on/off Continue automatically to next screen, and Disable sounds for correct and incorrect answers.

What do the icons on the Activity Bar mean?    
You will have access to all the activities available in Rosetta Stone: Learn Languages™, with the exception of the Writing and Milestone activities.
Those will not appear in the app.
Completed
Activity
Did not receive 
passing score
Activity
In progress 

What options are there within an activity?   
The options can be accessed once you press the Pause button

 in the lower right corner of an activity screen.
From here you can view which unit and lesson you are on at the top, as well as view which slide number you are on.
You can also tap the Exit Exercise button in the top left to go back to the Home Screen.
As well, you can press on a different slide number if you wish to redo a slide or move around the lesson.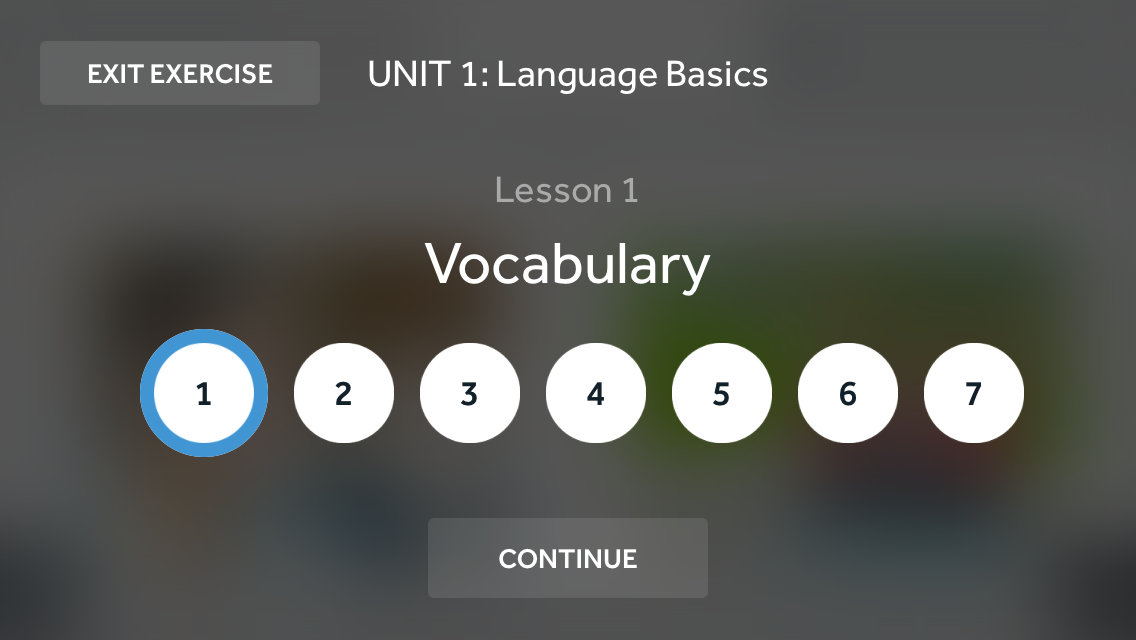 Can I zoom in to see the questions and image better ?   
Yes! Rosetta Stone: Learn Languages™ has the capability for you to zoom into the text and images as you move through the lessons.
Simply press and hold your finger on the image you wish to seem enlarged.
Tap the screen again to reduce the picture to normal size.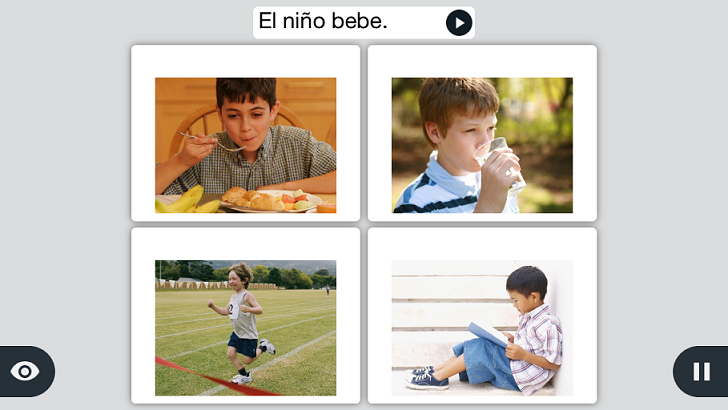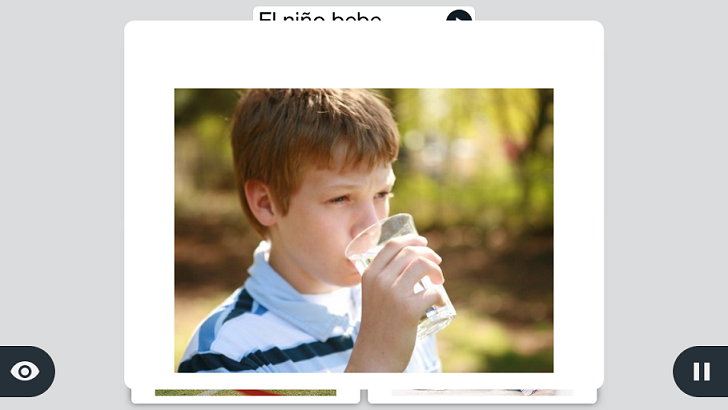 How do I sign out or switch learners?   
From the home screen, tap the Menu option in the upper right hand corner. Then choose Settings:


Then tap Sign out.
You can then sign in as a different learner.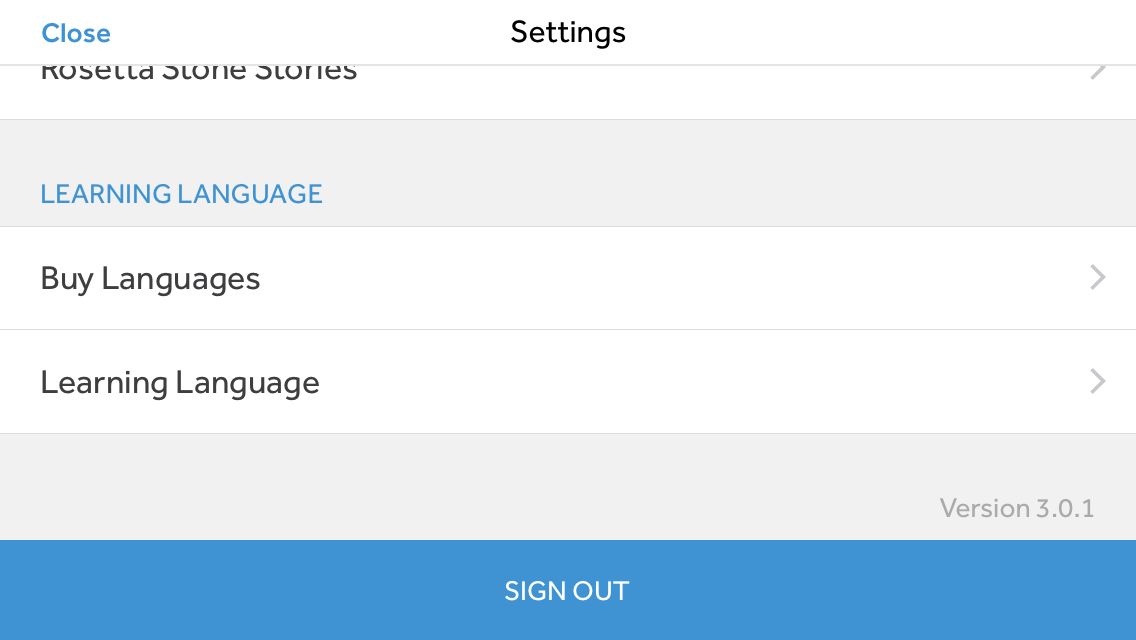 New buying options
We recently added new options to buy the product in your mobile devices.
In your mobile app, following screenshot will show up and you can choose following options: 3 months, 6 months, 12 months, and forever.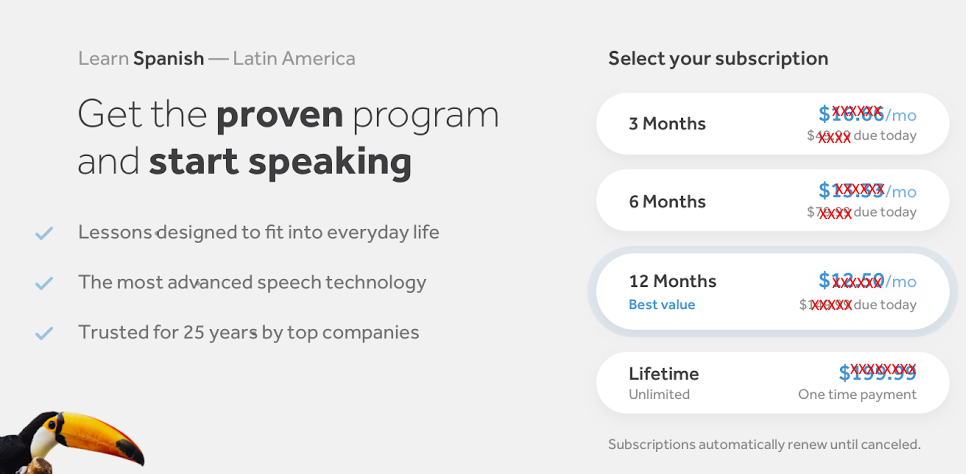 Based on your learning needs, please select you desired product.