BusinessEducation
All About Live Tutoring in Fluency Builder
Live Tutoring is a virtual, live experience where a tutor guides you through activities that inspire conversation and reinforce your new language skills. Depending on the product your organization has chosen, you may have 1:1 sessions or group sessions with up to 5 other learners. Your tutor, a native speaker of the language you're learning, is there to help you with pronunciation and grammar, provide encouragement, and ultimately enable you to speak with confidence. 
---
How do I schedule a Live Tutoring session?
We recommend scheduling your sessions ahead of time so you'll have a better selection of Live Tutoring session times. You can schedule sessions up to 6 weeks in advance. 
Follow the steps below to schedule a Live Tutoring Session:
1. Click on the "Live Tutoring" button at the top right of your program.
2. Click "Schedule a Session."
3. Choose from the available topics at the top of your screen.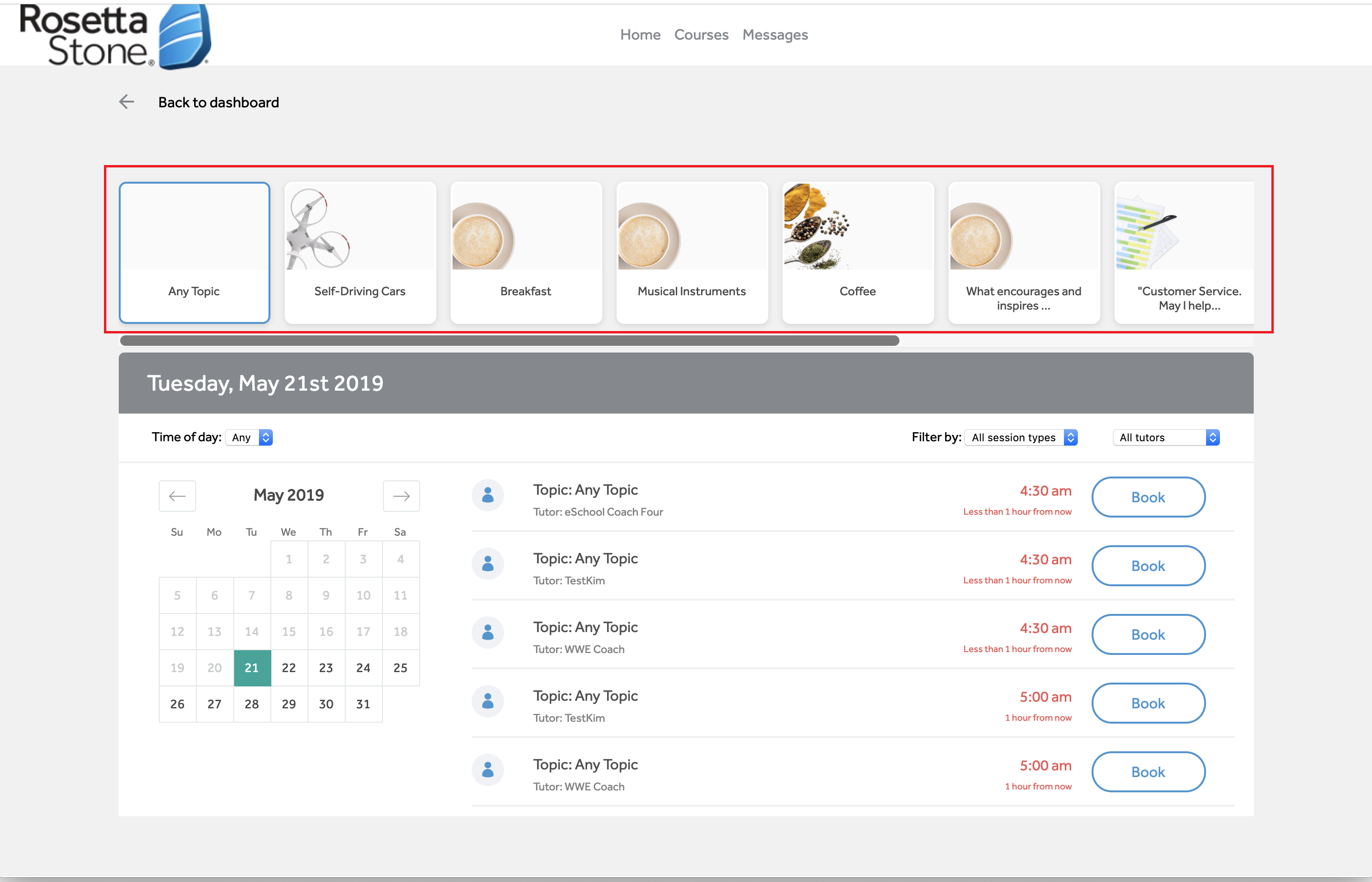 4. Next, use the calendar to find a session on a day and time that works for you, then click "Book" next to the session.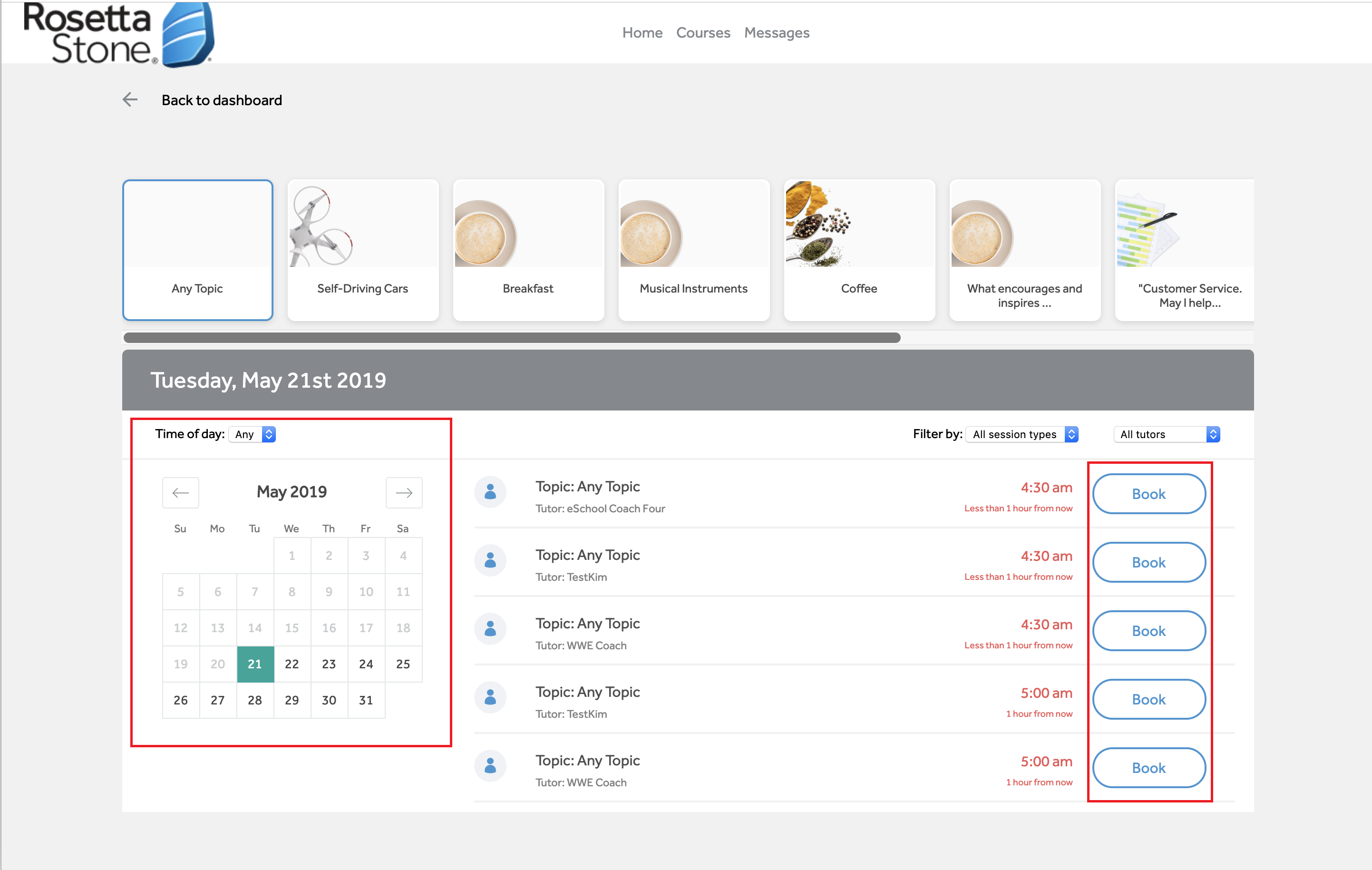 5. You'll get a pop-up confirming the session you've selected. You can confirm by clicking "Book Session" or go back and select a different session by clicking "Cancel."
6. If you book the session, you will get a message that it has been successfully added to your schedule.
7. The session will now appear on your Live Tutoring Dashboard and you'll have options to perform a system check prior to the session to ensure your audio (and video for 1:1 sessions) works properly or cancel the session.
---
What are Any Topic Sessions?
Any Topic live tutoring sessions are "wild card" sessions that do not have a topic assigned to them (YET!). Any Topic sessions appear under both the Any Topic and all other Topic tiles at the top of the screen at first. When you select one of these Any Topic sessions, you will then have the option to choose the Topic you would like to cover following the steps below:
1. Select your preferred Topic at the top of the screen OR select Any Topic, then select a day that works for you. Scroll through the available times and click Schedule on the time you would like to book. 
2. If you choose an Any Topic session, scroll through the available Topics, then click on one that works for you. Then click Select.
3. You'll receive confirmation that you would like to schedule this session. Click Schedule Session and it will be added to your schedule.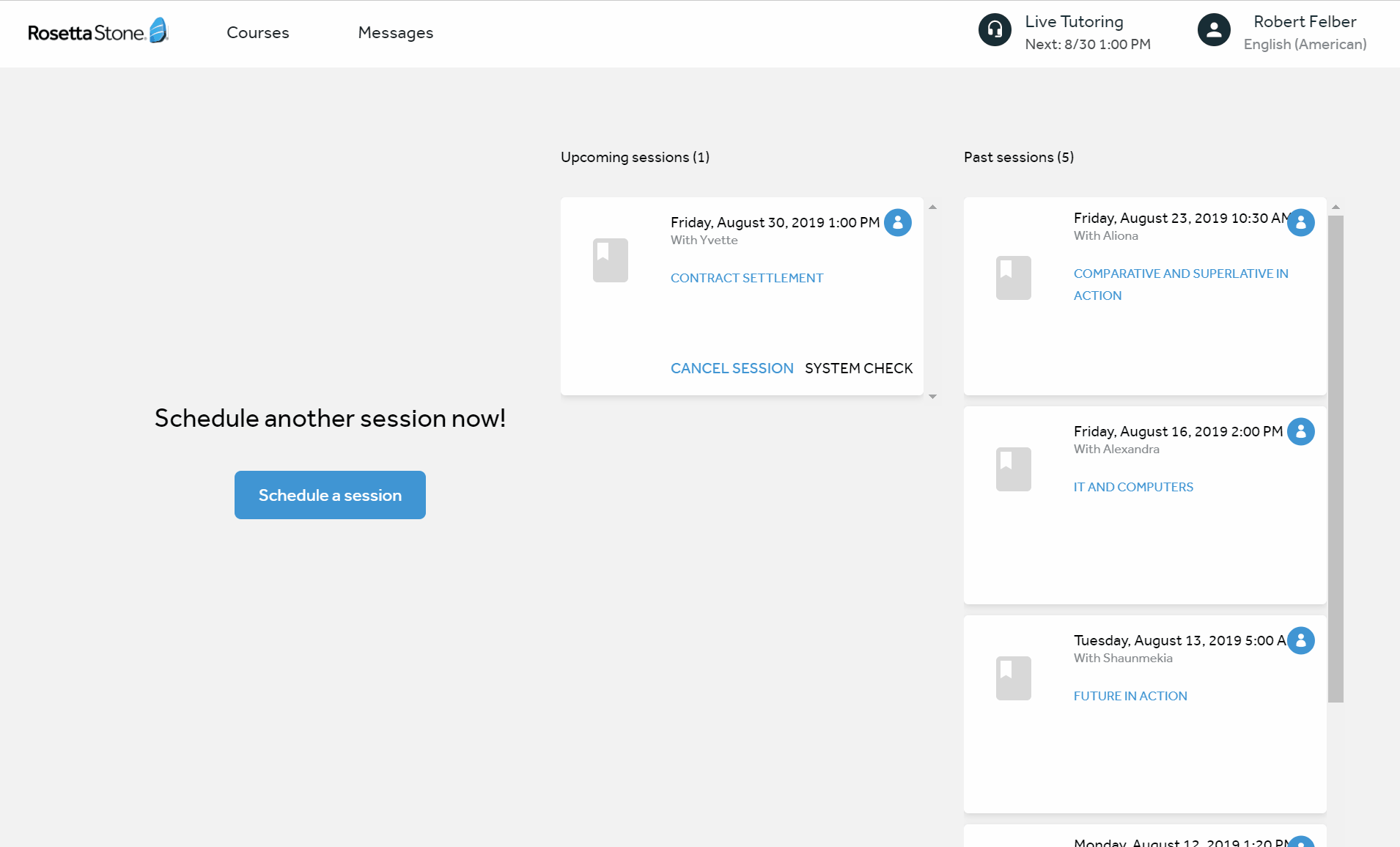 ---
How can I get ready for my Live Tutoring session?
Here are some tips to prepare for your Live Tutoring session:
Sign-in 15 minutes early to make sure your system is connected to the internet and that your headset is working properly. Click here to learn more about our system requirements for Live Tutoring sessions.
Find a quiet space that will allow you to focus on your session and sign out of all applications, which may interfere with your connection to Live Tutoring.
Review lessons from the relevant topic to prepare.
---
How do I attend my Live Tutoring session?
Sign in to Rosetta Stone Fluency Builder on a computer.
About 30 minutes before the scheduled start time of your Live Tutoring session, you will see a countdown to the Live Tutoring session in the top right corner of your Rosetta Stone Fluency Builder homepage.
Click on the Live Tutoring icon on your toolbar.
On the right side of your Live Tutoring Dashboard, click "Join Session" on the session that is about to start under Upcoming Sessions.
5. Follow the prompts to calibrate your headset, speakers, and video (for 1:1 sessions) on the System Check screen. Then click "Join" to join the session.

 
6. Your Live Tutor will appear and greet you once the session begins. Greet your Tutor when you are addressed, remember to speak only in your new language, and enjoy interacting with others!
7. If you encounter issues, let your tutor know either by speaking or using the chat function, or go to support.rosettastone.com to contact our Product Support team.
---
Live Tutoring Scheduling and Attendance Issues
We want to make sure that you have the best possible experience in Live Tutoring, whether you are scheduling, attending, or rescheduling a Live Tutoring session. If you're having issues with Live Tutoring, please refer to the common troubleshooting steps below.
---
How do I change the time zone in the Live Tutoring scheduler?
To view your Live Tutoring session schedule in a different time zone, you must change the Time Zone setting in your profile.
Hover over your name on the toolbar, and click "My Profile."
Select the new time zone you'd like to view.
Click "Save Changes."
Hover over your name again, then sign out and sign back in to see the Live Tutoring session schedule in your new time zone.
Important: If your time zone does not appear in the selections, then sign out and close all internet browser windows. Adjust the time zone and other time settings (such as daylight savings)  through your computer settings then sign back into Rosetta Stone to verify or update your profile.
---
How can I reduce echoes during a Live Tutoring session?
Echoes in Live Tutoring sessions usually occur because your headset, or another participant's headset, isn't configured properly. Ensuring your headset is configured using the System Check before attending your Live Tutoring session is the best way to prevent echoes in your Live Tutoring session.
---
What should I do if other learners can't hear me during my Live Tutoring session?
If other learners or the coach in your Live Tutoring session can't hear you speaking, even after you've set up your microphone, try leaving and re-entering the Live Tutoring session. If you continue to have difficulties, go to support.rosettastone.com to contact our Product Support team.
---
What should I do if my Live Tutoring session is canceled?
Under rare circumstances, Rosetta Stone may have to cancel a Live Tutoring session. For example, a Tutor may be unavailable or the site may experience technical difficulties. If you are scheduled for a Live Tutoring session that is canceled, please schedule another Live Tutoring session as soon as possible.
---
How can I cancel my Live Tutoring session?
We know that things can come up, and if you believe you won't be able to attend your Live Tutoring, we encourage you to cancel your registration to help provide other learners the opportunity to attend. You can cancel by signing in to your profile, navigating to the Live Tutoring screen, and clicking the trash can button in the top right of the session you want to cancel.