BusinessEducation
Downloading Audio Companion Files
Requirements for Audio Companion Download: 
You must have a Rosetta Stone
®
Foundations product to be eligible for Audio Companion download from inside your product.
 If your organization does not have the Foundations solution, you can download the Audio Companion 
here
.
  Instructions to download Audio Companion files:
   1. Please click on your learner's display name located at the top right corner of the screen. 
   2. Click on Audio Companion from the drop down menu as shown below. 
   3. You will be directed to the Audio Companion page. 
Click on the drop down menu labeled "SELECT YOUR LEARNING LANGUAGE" and select the language you are learning.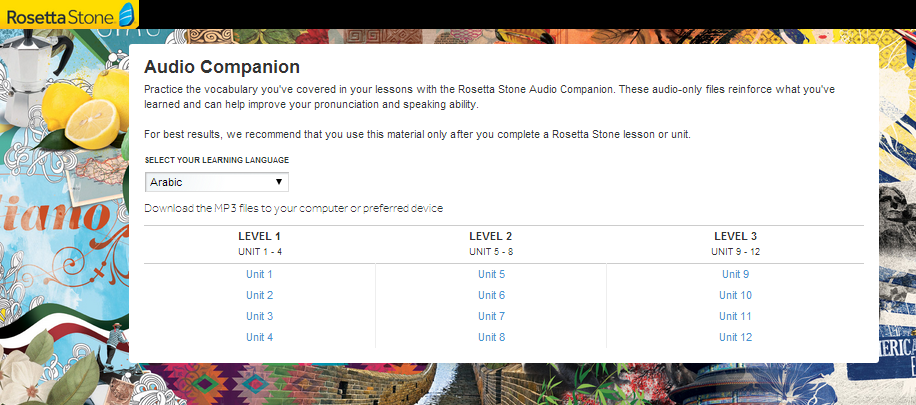 4. You will see a table in the lower half of the your screen. Your downloadable Audio Companion files are sectioned off by levels and units. Feel free to download your Audio Companion files by the unit as you make progress through your new language.  
   5. Click on the Unit link shown in the table. For example, clicking on Unit 1 link will download Audio Companion files for Level 1 Unit 1. 
Note: Audio Companion files are compressed in a ZIP file format. Zip files can be extracted onto your computer. The extracted MP3 files can be placed in your choice of media player (iTunes, Windows Media Player, etc.) on your computer and then be loaded on to your MP3 player. 
Return to top